Makana Candles
Classic - 10oz
Your faves are back! The hand-poured, small batch candles with the Aloha spirit that you love are now available in a larger 10oz size. Made using simple, clean ingredients – 100% soy wax, lead-free cotton wicking, and phthalate-free fragrances blended with pure essential oils. From our amis at family-owned Makana. All ingredients are mindfully-sourced in the USA and are vegan and cruelty-free.
SCENT PROFILES ARE LISTED UNDER HOW TO USE.
Regular price
Sale price
$32
Unit price
per
Sale
Sold out
Amber Tarragon - Resinous Amber notes with soft vanilla, tarragon and fennel, on a base of sensual woods.

Acadia Sandalwood - A composition of sultry sandalwood, oud and acacia, ever so softened by warmed vanilla and tonka. A warm and gentle fragrance, perfect for a cozy ambiance.

Grapefruit Lychee - Refreshing and addicting, a citrus accord of grapefruit, pomelo and yuzu, accented by notes of lychee and lilikoi, sweetened with a base of vanilla sugar.
Notes
Top: yuzu, grapefruit, pomelo
Middle: lychee, passionfruit, market peaches
Base: vanilla sugar

Sea Salt - Traveling across thousands of miles, tropical trade winds carry notes of fresh sea salt with hints of lush island foliage and flora. This fragrance is reminiscent of warm, breezy coastal days when beyond the horizon, the sky magically meets the sea.
Notes
Top: bergamot
Middle: salty ocean air, coastal grass
Base: oak moss

Coastal Cypress - Inspired by a lush and verdant California coastline capturing the scent of salty, ocean air with conifer trees, and grounded by earthy peppergrass.
Notes
Top: kaffir lime
Middle: sea salt, juniper, cypress, fig, coast redwood
Base: peppergrass, moss

Neroli Blossom - A beautiful citrus floral fragrance of orange blossom, clementine and neroli reminiscent of springtime amongst the orange groves. Our ode to old world Orange County, where orange groves were once prevalent and meant that warm California evenings unfolded the most intoxicating floral fragrance.
Notes
Top: clementine, orange blossom, petitgrain
Middle: neroli, gardenia, lily
Base: sandalwood

Isla - Freshly-gathered Tiaré and Gardenia, mingled with rain-dampened island foliage, and lightly resting on a bed of soft woods.

Lavender Tangerine - A calming blend of lavender, eucalyptus, and tangerine, this scent promotes balance, peace and mindfulness.

Pikake Jasmine - Pikaki blossoms offer the most alluring jasmin fragrance, especially in the evening.

Tea Leaf - A clean and luxurious scent with whispers of lemon verbena, ginger, white tea, and sage creates an aura of tranquility and sophistication. A home spa favorite!

White Pearl Tuberose - Notes of orange flower, tiare, jasmin, violet, and amber.

Balsam & Cinder - A mingling of fir needle, balsam and spruce with hints of citrus and smoky woods. A cozy, sultry blend reminiscent of festive, chilly evenings by the fire.
100% soy wax, lead-free cotton wicking, and phthalate-free fragrances blended with pure essential oils. No additives, enhancers, colorants, filler waxes, phthalates and petrochemicals added. All ingredients are mindfully-sourced in the USA and are vegan and cruelty-free.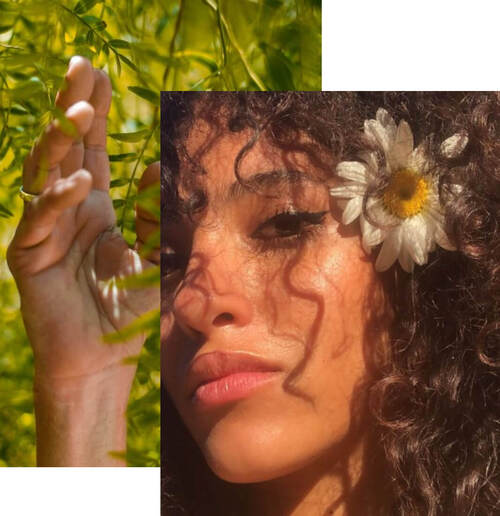 made with purpose
Clean & Sustainable
We take great care to make sure our products are safe for both you and the planet. We never use chemicals, preservatives, synthetic fragrances or fillers, and are always evolving our sustainability efforts - from waterless formulas to refill options. A more beautiful and lush future is possible.
find your beauty essentials
Goes well with
Love this candle
I love everything about this candle. I got the coastal cypress. It was not the smell I was expecting but I don't ever think you can expect to understand a smell without experiencing it first hand. I like the smell.
Stunning!
Lovely scent, subtle but effective throw, and just beautiful. Quickly become my favorite!